Oh hello you look like a girl
I used to know.....
source
So.......if there was an award for a slack blogger I guess I might make a contender and get a mention somewhere :) I don't have any reason for not blogging recently except for the fact that I just haven't really felt like it. I haven't really had any motivation for taking nice photos and I couldn't think of anything that seemed of any real importance to blog about, and I didn't want to blog just for the sake of it.... then I realised that I hadn't posted for over two months. Which makes me quite sad when I remember how much I used to love blogging :(
I think I may have found my love for blogging again :)
So I hope everyone had a lovely lovely christmas and happy new year :) I did, I love christmas although it always goes way to fast for me. I'm not a big fan of January and February as its just all the cold days and dark nights without any of the excitment or sparkle of christmas. Still they are also about fresh starts :)
# It was my blogs first birthday on the fifth of November which I missed posting about. I can't believe how quickly it went by, or that I've had a blog for a year. When I first started my blog it really helped me to get through something difficult, and I don't know how I would have come through on the other side without it. Its such a great place to share things with people who love the same things as you and just want to say thank you to everybody who took the time to follow me or leave me a comment last year :)
# I think I mentioned in a recent (ish) post that I got a new job. Its for a new lingerie store thats just opened and I've really enjoyed working there so far. It was part of the reason I didn't blog as much in October/November as that's when the store was opening and we were putting 12-15 hour days every day to get it set up, which was pretty intense and exhausting (although we were very well fed ) The shop is lovely to work in, it has a really girly and vintage feel interior to it. I don't want to mention what its called (which I know seems weird and you may think well what was the point in mentioning it then?) simply because I know they did have a blogger event in December and I don't want anybody in my personal life to know that I have a blog :)
#I have been wearing my hair up to work recently as its gets so windswept on the way in its unbelievable. I've been getting really bored of just pulling it in to a low ponytail though and so I went looking for different ways of wearing your hair up when I found all these amazing tutorials on
a beautiful mess typepad
.
They look so gorgeous I really want to try and get my hair like some of these :)
#I've been loving high heels a lot lately. I really want to add these to my wardrobe:
Black stud detail shoes New Look. I love love love these shoes. They look a lot nicer than they do in the picture and I think they would be perfect for a night out. They have them in the Cardiff store in every size but mine :'( I'm so tempted to order them on line but I will get 10% off if I wait for them to come in to store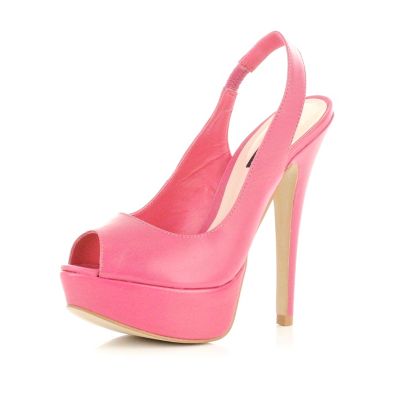 Pink shoes from River Island.
I love the colour of these so much
New look shoes
I've always been interested in fashion since I was old enough to get a job and buy my own clothes. I think this year I want to change my blog around a bit and start including more fashion related posts :) as well as post on jewellery and other various ramblings. I also definatley want to learn to cook this year, so I can make yummy things like this:
and this
and this
and these